It often happens that a person is looking to know more of their origins. Genealogy is an important element of our association's mission. We will provide you with tools that will allow you to trace your origins until the time of the Colonization of New France.
1 – Hard copy of the book (in french)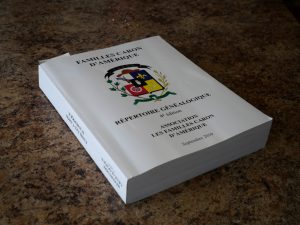 It is possible to obtain a hard copy of the book, the last edition, dates back to 2014. From this book, you can trace your descendants, if you know the name of your grandparents and ideally the place where they were married. Obviously, our database is constantly evolving and you can help us to complete it.
You can buy the book by clicking CONTACT.

We will contact you by email or telephone according to your preferences. You can pay by credit, debit or check.

You can fill a family form (fiche famille) and send it to us by email if

you find missing or incorrect information in the directory

.
2 – Genealogy on line (Members only)
Members of our association can view a PDF file online that includes the generations of deceased ancestors. This file is updated periodically, it contains the most up-to-date information from our database. (French only)

PDF files for other Caron ancestors who immigrated later will be added to this page little by little.
Here are examples of forms to collect the result of your bloodline search